Thursday, July 30, 2009
This is part of a series that will name All-Decade teams for the Marlins. Click here to view all the posts made in this series.

First up we have the All-Decade team of the 2000's. There will actually be two All-2000's teams. This first one represents the play and achievements over the whole decade. Thus, tenure and longevity count, but, massive production for a short period of time will grant you consideration as well. The other All-2000's team which will be named later will represent the best single season performances for each position. Here is the starting lineup.

1. Juan Pierre, CF: JP had three great years in South Florida and was a huge contributor to the 2003 champions. His seasonal averages for those three years? How does a .300% batting average with 200 hits while playing all 162 games sound? Terrific, and while he didn't have the greatest center field arm, he had good range and fielded his position well. He was the easy choice to play center and leadoff for this team.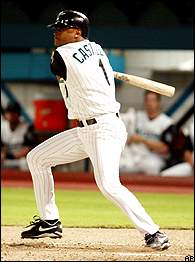 2. Luis Castillo, 2B: Luis was another easy choice. He is still the team's leader in career games, runs, hits, triples, walks, and stolen bases. For the decade he made three all-star teams, won three gold gloves, and hit over .300%. His 2003 campaign was also vital towards winning it all, as he hit .314 and won one of those gold gloves. He also dazzled fans with a 35-game hitting streak in 2002 which remains the longest by a second baseman.

3. Hanley Ramirez, SS: Yet another easy choice. Hanley won Rookie of the Year honors in 2006 and has ascended to one of the best players in the game. He made his second all-star team this year and has a shot to notch the first ever batting title for a Marlins player. This is only his first year in the three-hole after hitting mainly first, but the transition has been so smooth that he has stamped his name there for this team. He has proven to be very capable of driving in runs, while remaining a good run scorer. The 3rd hitter in the lineup should be your best, and Hanley is quite simply that.

4. Miguel Cabrera, LF: Well, Cabrera could also be that too, but I've decided he should be hitting cleanup. And while he came up as a third baseman and now plays first base for the Tigers, he spent most of his time in Miami in the outfield. What Cabrera did in his Marlins career is astonishing. He was a huge piece added from the minors that was crucial for the success of 2003. He also flat out carried a 2006 team riddled with rookies and inexperienced players. For the four year span of 2004-2007, he basically averaged 32 HR and 115 RBI while hitting around .320%. He was an all-star in all of those years and won the silver slugger award in 2005 and 2006.

5. Pudge Rodriguez, C: Catcher was a tough spot to pick because the position has been filled with one and two year wonders. But let's face it, no one is more deserving than Pudge. His 2003 campaign saw him play in 144 games (that's a LOT for a catcher) and he managed to hit just a shade under .300%. He will be remembered for his two moments in the NLDS though. A two out, two strike, two-run single that won game three followed by tagging the final out at a collision at the plate to save game four. He also won the NLCS MVP for driving in ten runs.

6. Cliff Floyd, RF: Choosing the last outfielder was kind of tough. Kevin Millar, Josh Willingham and even Mr. Marlin Jeff Conine were given consideration for this spot but Floyd's long tenure gave him the edge. He was one of a few big producers during the era between the two world series titles. In two and a half years played in Miami this decade, he hit .304 with 71 home runs. His 2001 season was good enough to get him to the all-star game. He did play primarily in left field, but he did switch over to right in 2002 before being traded which is good enough for me.


7. Mike Lowell, 3B: With Cabrera in the outfield there was only one person to play third base, the second Mr. Marlin, Mike Lowell. He played seven years down here (starting in 1999) which is quite a long tenure for a Marlins player. He was as steady as they come too, always hitting around .275% while being a doubles and RBI machine. His defense was outstanding and it finally paid off winning the gold glove in 2005 (he deserved more but NL 3B was a tough spot). He was also named an all-star three times and collected one silver slugger in 2003.

8. Derrek Lee, 1B: Derrek manned first base from 1998-2003. For this decade he was .275% hitter averaging about 27 home runs a season while playing gold glove caliber defensive (finally winning one in 2003). It would have been okay I guess to give Carlos Delgado the nod for his fantastic 2004 season, but it was D-Lee I'd say that mos Marlins fans would prefer playing first base.

Deserved Consideration (Or Bench Players!)

Kevin Millar, OF: Hit over .300% in 2001 and 2002. His funny attitude would be much appreciated in any clubhouse
Jeff Conine, OF: He has to be on ANY Marlins team, plus his second stint after coming back in 2003 was pretty solid.
Dan Uggla, 2B: Not your typical 2B, but he hits for power and drives in many runs. He's been part of the 2006-present corps.
Mike Redmond, C: Five great years as a backup catcher, he always did above what was needed.

Stay tuned as the pitching staff of this team will be named later this afternoon or tomorrow morning.