Thursday, January 13, 2011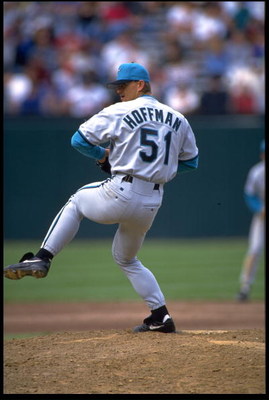 Trevor Hoffman, P
Played for Marlins
: 1993
Other Teams
: San Diego (1993-2008), Milwaukee (2009-2010)
Marlins fans know him because:
The Marlins selected Hoffman with the eighth pick in the 1992 expansion draft from the Cincinnati Reds, for whom Hoffman played two years in the minor leagues. Hoffman spent the first part of 1993 as a setup man for Bryan Harvey, amassing 2 saves in just over 35 innings before being traded to San Diego for star third baseman (and future
child of the diaspora
) Gary Sheffield. Also included in that trade were Rich Rodriguez (sent to Florida), Andres Berumen and Jose Martinez. Being that his trade came in 1993, this makes him the very first child of the Marlins diaspora.
Everyone else knows him because:
Hoffman quietly became one of the greatest closers in MLB history, amassing a record 601 saves before
announcing his retirement this week
. It remains to be seen
whether Hall of Fame voters will deem him worthy of inclusion
, but that's a lot of saves, and Hoffman had one of the all-time great changeups. Additionally, Hoffman was a 7-time All Star, finished second in Cy Young voting twice (1998 and 2006), and has the 5th best K/9 in MLB history (9.36, just above Sandy Koufax).
Best Marlins moment
: Hoffman's greatest contribution to the Marlins was being traded for Sheffield. Sure, the Marlins lost out on a pivotal relief pitcher, but in exchange got 4 years of a premier power bat and possible future Hall of Famer. For that, we owe him thanks.